Welcome to Retro Retreat
Minutes from Disney World!

1950's inspired décor • Private Lanai • Complimentary heated plunge pool

Comfortable floor plan whether you come for to work remotely, to enjoy the parks, or just to take a break from the everyday, this is the place to stay.

WHAT PEOPLE LOVE
- Ease of access to airport, downtown & parks
- First floor bedroom & full bathroom
- Fully equipped kitchen
- Smart lock for easy check-in
-Free on-property parking


GOOD TO KNOW

FAMILIES welcome: All the amenities you'll need Highchair and pack-and-play and FREE on-site waterpark!

SNOWBIRDS welcome: Private, gated, centrally located community terrific for long-terms stays.

WORKERS welcome: Hi-speed internet, fitness center, ATM and Cyber Cafe at the Clubhouse for your printing, scanning and Faxing needs.

- We are thrilled to open our vacation home to our guests. Due to family members with severe allergies, we are unbale to hots ANY pets in this unit. This includes documented Emotional Support Animals (ESA) as well as Service Animals (SA).

DETAILS AND AMENITIES
KITCHEN: Well equipped with utensils, pots, pans, coffee maker, etc. along with all the appliances you will need for your stay, including a dishwasher.


LAUNDRY: Full-size washer and dryer for your convenience.

LIVING/DINING ROOM: Open living and dining floor-plan. Dining table and breakfast ledge to seat all 8 guests comfortably.
Large smart TV viewable from living and dining area. Room for queen size inflatable mattress, provided.


BEDROOMS:
Second floor:
-MASTER SUITE King size bed, USB charging at nightstands, reading lights TV and private full-bathrooms with tub
-MICKEY SUITE Twin beds, charging hub, reading lights TV and private full-bathrooms with tub
First floor:
-MAGIC SUITE Queen size bed, USB charging at nightstands , reading lights TV and access to full-bathrooms with shower


WIFI: Free high-speed WiFi

SMART TVs: Every room is outfitted with a smart TV including complimentary Disney+, Netflix & Hulu

PATIO: Private patio with pool.

PARKING: Free, designated, on-site parking for 1 car at the entrance to house and additional parking within a few steps.


COMMUNITY AMENITIES:
- Swimming pool, Hot tub & Water park
- Fitness center
- Tennis, basketball, volleyball, Ping Pong, Toddler lot & reaction park
- Game room, DVD rentals, Movie theater & ATM
- Marketplace & Grill
- Cyber Cafe

FREE on-site waterpark - head to the Welcome Center to obtain your wrist bands
-Max 8 bands per Townhome booking***
Welcome to Windsor Hills - Resort Pool
COMMUNITY AMENITIES: - Swimming pool, Hot tub & Water park - Fitness center - Tennis, basketball, volleyball, Ping Pong, Toddler lot & reaction park - Game room, DVD rentals, Movie theater & ATM - Marketplace & Grill - Cyber Cafe
COMMUNITY AMENITIES: - Swimming pool, Hot tub & Water park - Fitness center - Tennis, basketball, volleyball, Ping Pong, Toddler lot & reaction park - Game room, DVD rentals, Movie theater & ATM - Marketplace & Grill - Cyber Cafe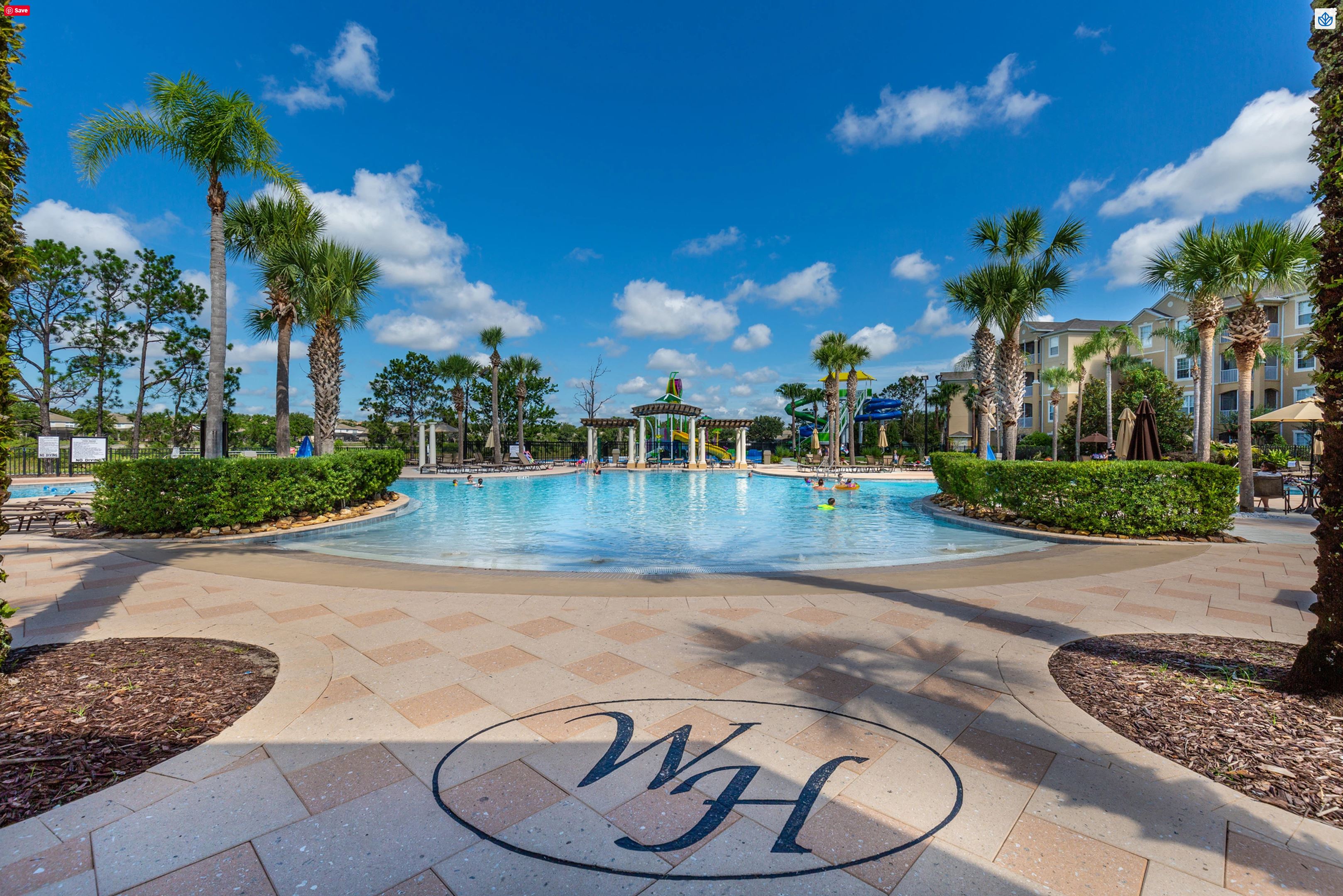 Welcome to Windsor Hills - Water park
FREE on-site waterpark - head to the Welcome Center to obtain your wrist bands -Max 8 bands per Townhome booking***
FREE on-site waterpark - head to the Welcome Center to obtain your wrist bands -Max 8 bands per Townhome booking***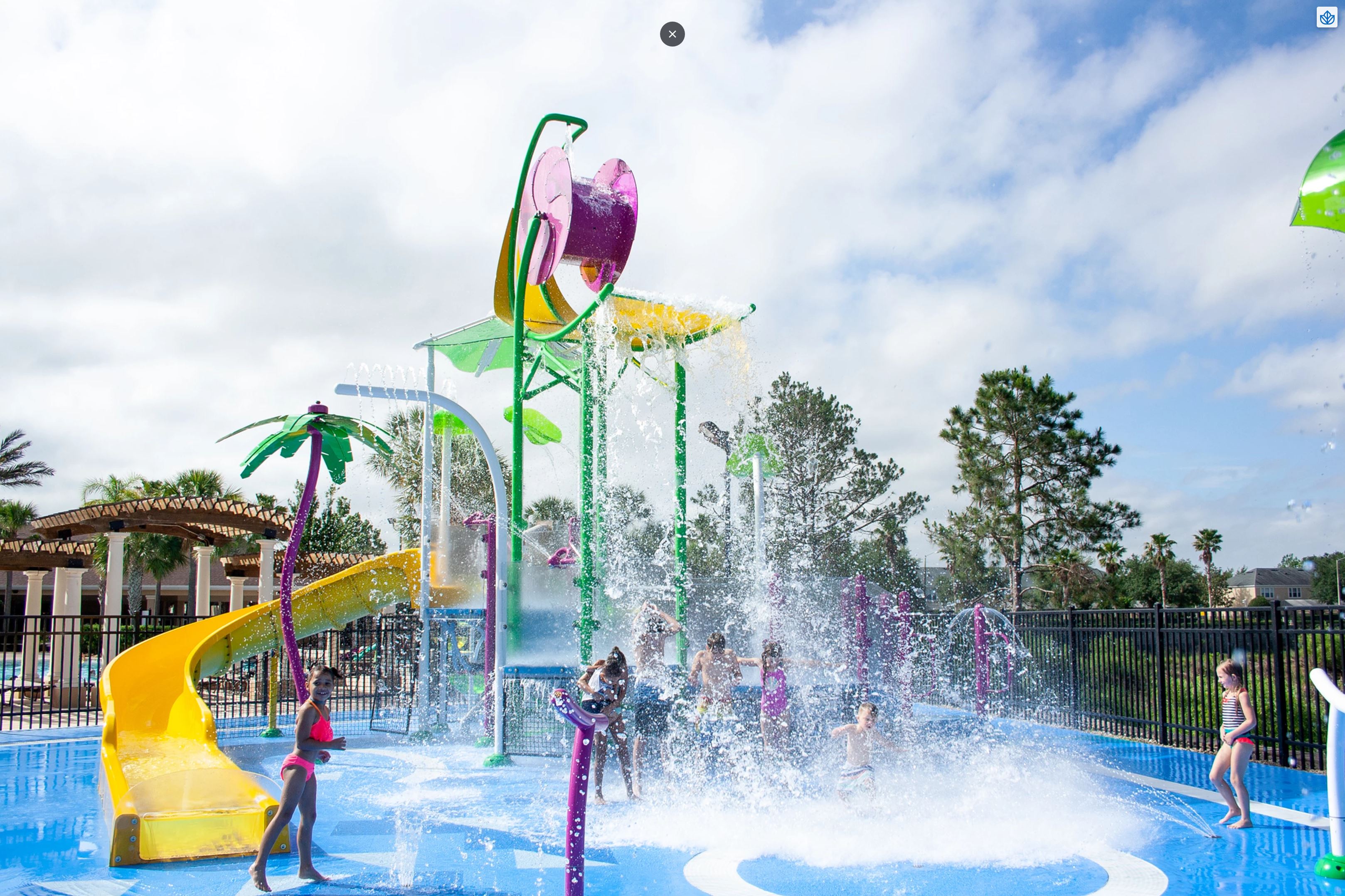 Themed rooms
Stay in the Mickey Suite
Stay in the Mickey Suite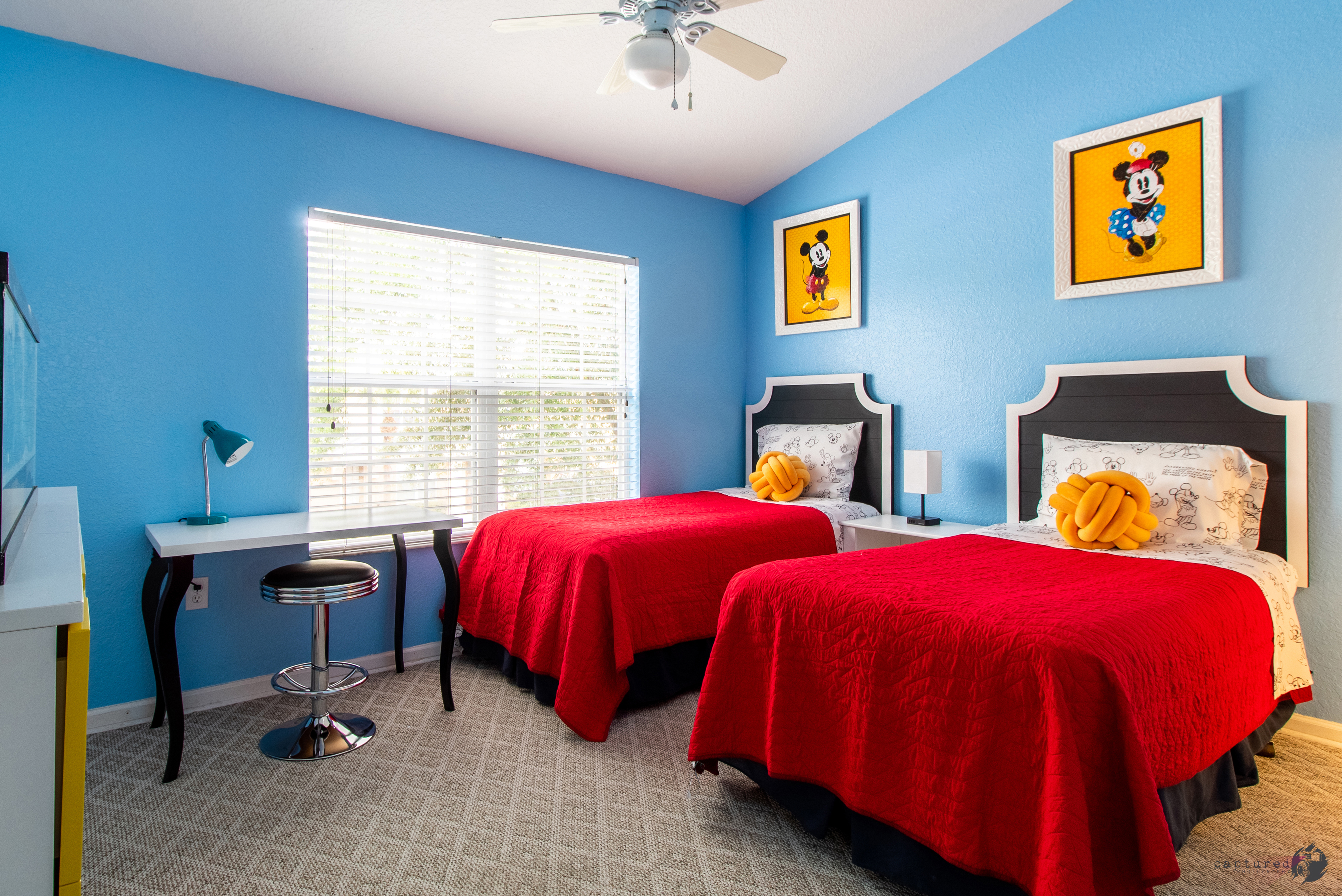 Themed rooms
Stay in the Magic Suite
Stay in the Magic Suite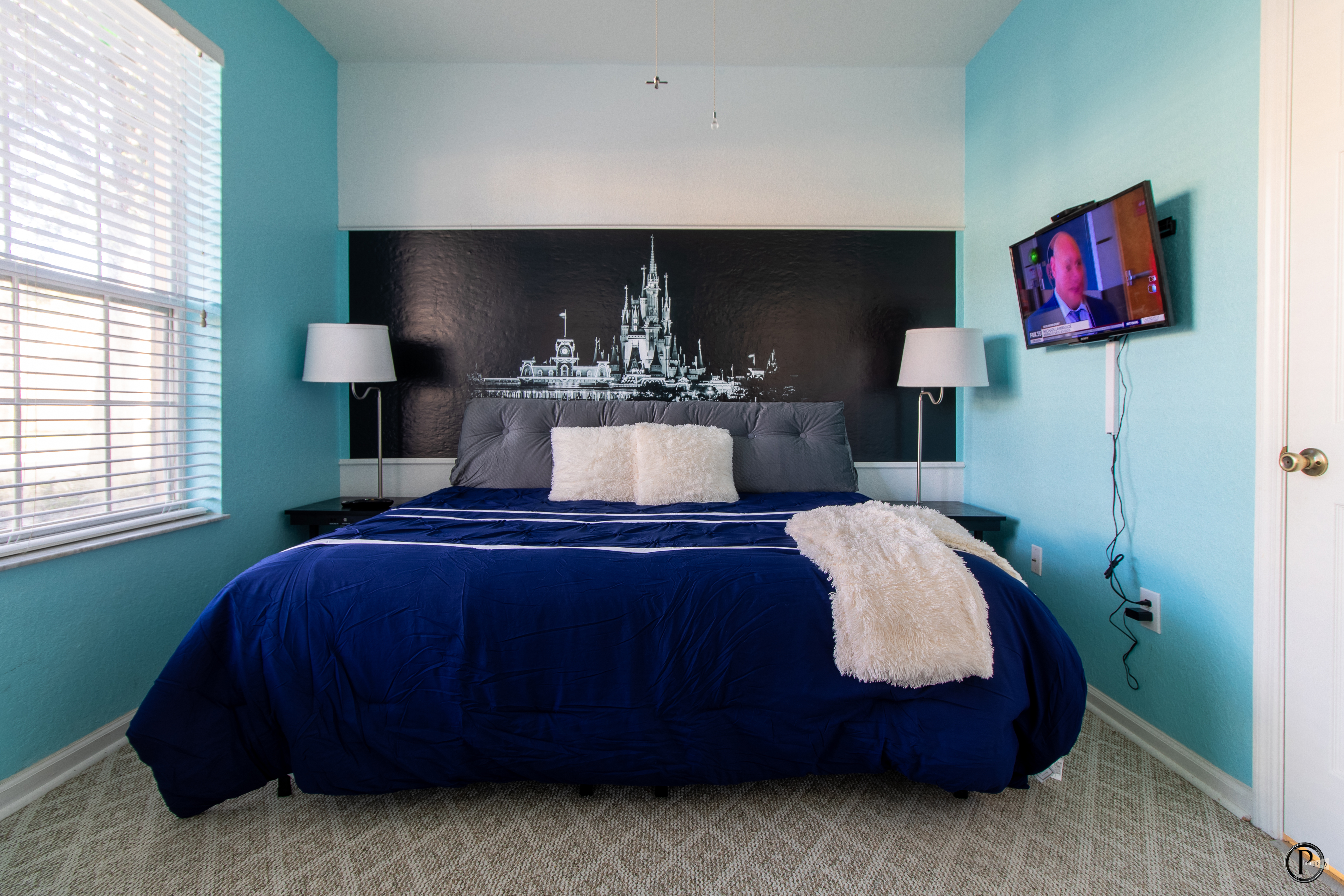 Ready to host little ones
Traveling with little ones? We've got the basics covered. - Highchair - Pack-N-Play - Wagon - Stroller - Baby stair gate
Traveling with little ones? We've got the basics covered. - Highchair - Pack-N-Play - Wagon - Stroller - Baby stair gate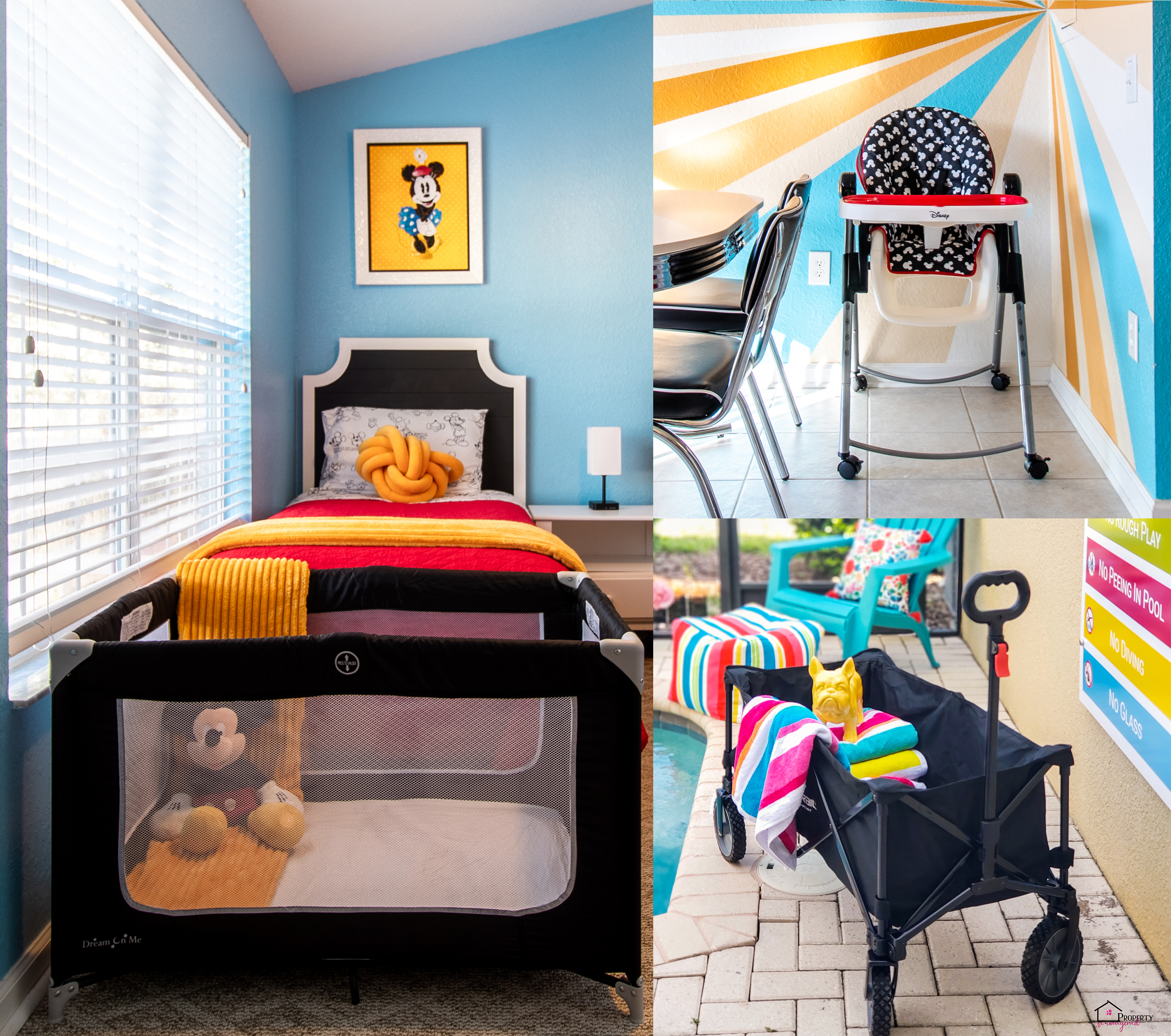 the location
testimonial
We absolutely loved our stay! Very clean, and true to the pictures! Safe, gated community as well!
Crystal
03/05/2022
Great location & amenities. LOVED the theme of the house, super easy check in/out!
Victoria
03/05/2022
We had a fantastic stay for 10 days. Very clean and spacious with everything we needed. Rita Maria was very responsive to any questions we had.
Allison
03/05/2022
This location is fantastic for any Disney park travelers and not too far from Universal and Sea World too! The beds were super comfortable and the Retro Retreat is so cute! Great decor and felt like home. Would definitely highly recommend.
Norine
03/05/2022
This was the perfect place for our family if 5. Rita was wonderful and so responsive. She has done an amazing job with the decor and thinking of all the little things. The location is perfect, 10-12 min to most of the parks. Beds were also super comfy. I cannot say enough. Highly recommend ????
Bethany
03/05/2022
The comforts of home and only minutes to the parks. Rita Marie's place was perfect for our family of 4 and we had plenty room for more if needed. Everything we needed and in a great location. The gated community of Windsor Hills also has a large pool and waterslides that we enjoyed between the parks. Down the block we were able to get what we needed for our stay at Walmart. There are plenty of other options near by like Publix, Walgreens and Target. Fast food was close for those late nights returning from the parks. You name it and it's nearby. We were amazed at how easy it was to get to the parks from Rita Marie's home. 8 to 12 minutes away. The guards at the gate are nice and helpful also. I can't say enough about staying at the Retro Retreat. Fantastic would sum it up in a word. Thank you Rita Marie for having us as your guest. We can't wait to return!
Brian
03/05/2022
Great location, great community pool, great communication. Home was the perfect size for 2 adults + 4 kids. We were surprised by the "bare minimum amenities" such as 1 dishwasher tab and 1 tide-pod but made it work as we had made our grocery trip on the way into town. This may have been an oversight on our end up-front though. Items suggested to bring with you if you are staying more than a few nights: coffee kcups, dishwasher tabs, laundry detergent, extra bathroom amenities like shampoo, conditioner, soaps. Overall the home was a great value and we'd definitely stay again!
Amber
03/05/2022
Great stay. Pools were great for the kids. Rooms were great everyone had their own bathroom and privacy. Close to Disney, about 10 min drive hardly any traffic, no tolls etc. Would def stay again!
Michelle
03/05/2022
The best! We have stayed a few times now at Windsor area and from now on we will always check to see if this rental is available first. It was perfect! So clean, so quiet, great communication, helpful and even go above and beyond after our visit when we forgot an item. Can't wait to come back!
Brittany
03/05/2022
A perfect family getaway! I loved every single moment of this experience. I rented this villa for 7 nights with my husband, two kids (9 and 4) and my mom. First of all, Rita Maria's communication was top notch. She answered any question I had prior to the trip, and she even answered messages at 11:00 at night! Prompt and truthful in all over her responses. She never made me feel silly for answering minute questions. Now, onto the property. It was spectacular! There were no neighbors behind us, so it felt private. The pictures did not do it justice. The retro feel was so fun! We were excited looking at everything because it was so uniquely decorated. We each had our own bedroom and bathroom, so I cannot even begin to tell you how convenient that was! We all took turns taking a hot bath in the master bath since it had a deep tub. Every room had a tv, so there was no fighting about who gets to watch what. And the pool! My goodness, we felt absolutely no need to go to the main pool by the community building when we had one of our own! Every morning my mom would get up, make a cup of coffee, and sit by the pool. The kids couldn't wait to jump in! Also, it's 5ft deep. So if you don't have a swimmer in your family, bring floaties. They have a pool cleaner who is scheduled to come around and vaccum and chlorinize (is that a word?) the pool. You will have to buy your own supplies, and that was fine with us. Don't go to the Walmart. You won't make it out alive. Take a left on Irlo Bronson and there is a Target down there. Not only was this a gated community (super safe!), but it's the closest gated community to Disney parks. We were at the parks in a blink of an eye. And when you have eager kids, and me too, you are ready to get there fast! I've been telling everyone about this place, and I already have people asking "where did you find it?" I'll be singing Retro Retreat's praises to anything with a pulse. Thank you so much for an enjoyable and memorable stay!
Clara B
03/05/2022
A Perfect Home for our Family We've stayed at Windsor Hills previously and love the neighborhood, but this home was a notch above other rentals. You could tell that the owners took care of the property, furniture, and furnished it for renters to have a great vacation. The property was very clean and perfect for us. It was well equipped with everything we needed. We had two children with so it was great that the rental was equiped with quality a pack-and-play, high chair, and baby gates. We loved our time here and would love to stay again in the future.
Eric
03/05/2022